Permanent Residency
Interview Guide
Everything you need to know to effectively prepare for the interview
Preparing for the Thai-language Permanent Residency interview is particularly daunting. This guide provides all the information you need, from the purpose of the interview to the logistics to what questions to expect. In other words, it will help you pass this essential assessment for obtaining PR.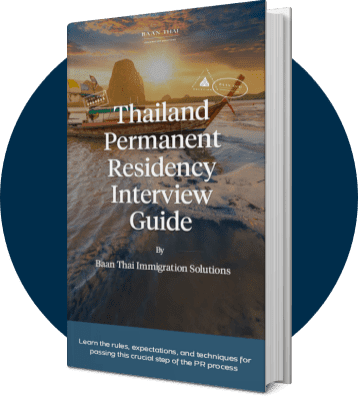 "I just downloaded it and it is really good - highly recommend this!!!! Actually unbelievable that this is for free - thank you VRRY much."
"Thanks for the guide. I liked it and think it useful for those planning to apply for PR."
"The PR guide is excellent, thank you so much. I have printed it out and made a book out of it and doing one on one lessons with my Thai teacher."
"It was excellent, very professional and detailed."
"Thanks for the guide - very useful."
"Thank you for the information. Very helpful."
"Your guide to PR is very interesting and helpful to read."
"Your guide is useful and [has] given me good information."
"I have found your guide helpful."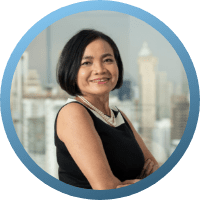 Kasinee "Ing" Suwan
Ing is a partner and senior counsel at Baan Thai Immigration Solutions. She has 25+ years experience as an immigration specialist. Ing helps clients relocate to Thailand and she assists with Permanent Residency and Thai naturalization.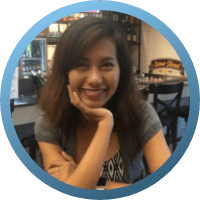 Arisa Rukkhaphan
Arisa is a Thai and English language teacher that works closely with Baan Thai. She lived in the US for about six years before moving back to Thailand and starting her teaching career here. She has helped hundreds of people with their language learning journey, teaching Thai to foreigners for five years and teaching English to Thais for over seven years.
Hear what our clients have to say
"The communication is great"
Hi, my name is Joseph Chi, and I'm an American who have lived extensively in Myanmar and now in Thailand for the last five
"We are very, very happy to have been introduced to the team"
Sawaddee ka. Sawaddee krub. My name is Ben. This is my wife Siriporn. What challenges were you facing before working with Baan Thai? We
"Khun Ing accompanied me through every step of the Permanent Residency process."
Hi, my name is Ahmet. I am a legal executive working for a multinational corporation with headquarters in Los Angeles, in charge of our
"Within just a couple of months, Kratai was here in America."
Ten years ago we had no idea how to start to get my wife Kratai from Thailand to here. All the websites had all
My name is Lisa Rivers and I'm actually doing this video because I believe that it will help other folks who might have problems
"I feel that I'm well taken care of…"
My name is Hazel from Korea and I've been using Khun Ing's visa and immigration services since 2018. It'll be my fourth year and
"My family and I were very relieved and very happy."
Hi, my name is Scott. I've been living and working in Thailand for the past 2 and a half years. My wife and my