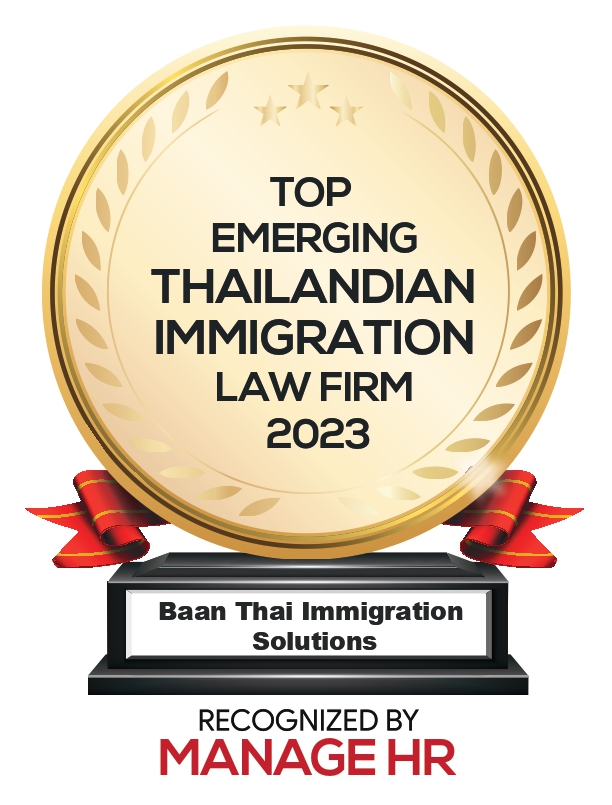 We are proud to have been nominated and recognized as a leading immigration law firm by Manage HR Magazine. We were featured in an article in the July 2023 issue, as seen below.
Baan Thai Immigration Solutions: Cost-effective Immigration Assistance in Thailand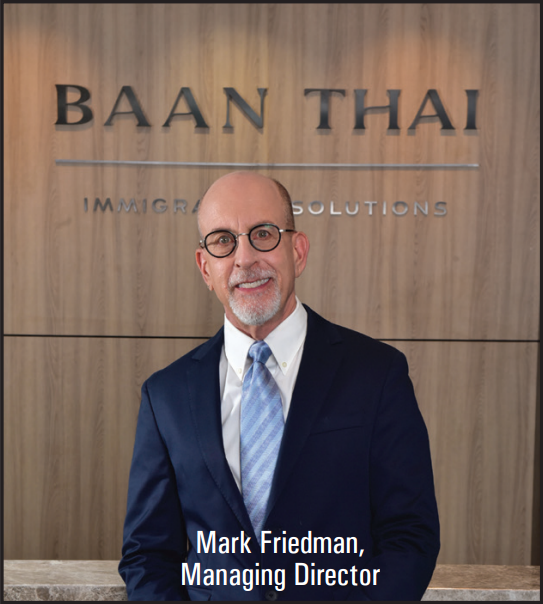 Baan Thai Immigration Solutions offers a valuable service to companies looking to navigate the complex legal, cultural, and linguistic barriers of Thailand's immigration system. The firm's expat managing director, Mark Friedman, has firsthand experience with these challenges, having set up his own company in Thailand. With decades of combined legal experience in the country, Baan Thai's team of seasoned counsellors and attorneys is well equipped to handle the constant stream of ministerial duties required for efficient operation in Thailand. 
This allows corporate leaders, HR teams, and expat staff to focus on the primary objective of growing the business.
Thailand's immigration requirements are particularly challenging for expat staff, as they involve ongoing visa and work permit compliance, as well as 90- day reporting. Baan Thai addresses these challenges through its experienced staff and dedicated resources, which handle these tasks with efficiency and accuracy. The result is increased productivity, better staff morale, and more business growth opportunities.
One of the key advantages of working with Baan Thai is the firm's established relationships with immigration and labour officers, as well as BOI supervisors. These officials have considerable discretion when evaluating applications and other requests, and Baan Thai's licensed attorneys and consultants have spent years cultivating these relationships to benefit the firm's clients. This advocacy ensures that client applications are handled with respect and timeliness.
Baan Thai's specialization in immigration and labour law sets it apart from other firms that offer a range of services, including accounting, tax law, and litigation. The firm's attorneys and consultants have extensive knowledge of the Thai immigration and labour system, and its infrastructure and software technology are designed to optimize the immigration process for maximum efficiency and costeffectiveness. Overall, Baan Thai offers a comprehensive and reliable solution to the challenges of operating a business in Thailand.
"We help HR teams, corporate leaders, and their expat staff stay focused on growing the business—without having to worry about constant immigration obligations," says Friedman.
Baan Thai Immigration Solutions recently assisted a corporate client, an EUbased international software company, whose head of operations in Thailand expressed frustration with their previous service provider. The provider lacked specialized expertise in immigration matters, resulting in various setbacks related to onboarding expat staff, obtaining approvals, and complying with reporting, extensions, and renewal requirements. Baan Thai leveraged its cloud-based client portal and immigration software, Docketwise, to ensure that deadlines were met and the client could focus on its core operations. As a result, the software company is now able to onboard and retain expat staff more efficiently and without disruption.
In addition to its corporate services, Baan Thai also provides assistance to individuals seeking visas and citizenship. The firm is the leading permanent residency provider in Thailand, as many individuals lack a long-term strategy for staying in the country due to the complexities of the immigration system. Baan Thai's expert guidance and well-structured long-term plans offer clients a clear path to settling in the country. By alleviating the immigration burden for their clients, Baan Thai allows them to focus on important aspects of their lives, such as their business and relationships.
Baan Thai Immigration Solutions offers a range of valuable services to both corporate and individual clients, leveraging its expertise and cutting-edge technology to navigate the complexities of Thailand's immigration system. The firm's focus on client satisfaction and alleviating the burden of immigrationrelated tasks allows its clients to focus on what matters most, both professionally and personally.