Whether you have family in Southeast Asia or are purely looking to move to paradise, Thailand is a popular retirement destination — and for good reason. The low cost to retire in Thailand means your savings will stretch further. Friendly locals and a large expat community ensure you'll feel at home. Warm weather year round means you can make the most of Thailand's stunning beaches. If the heat gets too much, you can always escape to the mountains. World-class medical care, a rich culture, incredible food, and luxury services at a fraction of Western prices are just a few other draws of the country.
However, information about retiring in Thailand can be misleading. Plenty of blog articles talk about living in Thailand for under $1,000 per month. While it may be possible to retire on a very small budget, you will miss out on a lot of modern conveniences.
This article provides a realistic cost of living in Thailand, assuming you want to live at or above the standards you are used to in your home country and spend some time traveling around beautiful Thailand.
All costs are in Thai baht ($1 ≈ THB34). For consistency, all prices are stated at a monthly rate, unless specified otherwise.
To check if you're eligible to retire in Thailand, read our guide to Non-immigrant O Visa options for over-50s. For help obtaining your visa, head to our Thai retirement visa services page.
Housing costs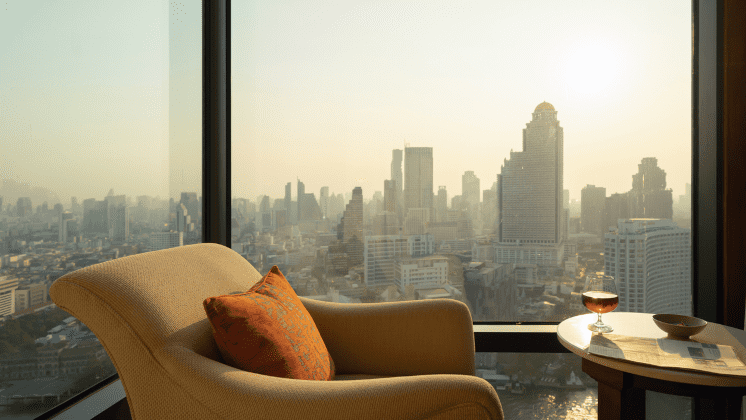 Your housing cost in Thailand is likely to range from THB15,000 to THB60,000+ ($446 to $1,785) per month.
Here are a few examples: 
Mid-range 1BR condo: THB15,000–20,000 
High-end 2BR condo: THB40,000–60,000
Ultimate luxury: THB80,000+
At the lower end of the scale, expect to get a mid-range, one-bedroom condo. In newer buildings, you'll have a staffed front desk, security, parking, and contemporary décor and amenities. On the downside, you tend to get less bang for your buck in terms of space. Older condos, in contrast, often have plenty of space offset by dated decor and amenities. Mid-range condos are best for singles or couples who are willing to make trade-offs to secure a lower cost of living in Thailand.
If you're looking for housing that meets or exceeds Western standards, it's best to focus on high-end condos. These often combine the best of both worlds — space and luxurious amenities. In this price band, you'll usually benefit from helpful front-desk staff, a modern hotel-style lobby area, a well-kept outdoor pool, private grounds, and a convenient and/or attractive location.
Moving to Thailand to take full advantage of luxury living at a lower cost? Accommodation upwards of THB80,000 will deliver. Compared to many other retirement destinations around the world, Thailand delivers a lot of luxury for relatively less cost. On top of hotel-style amenities and staff, this band of housing offers expansive rooms, often with stunning views, and world-class materials and appliances. It also often comes with added bonuses like coworking spaces and rooftop lounges.
Besides amenities and floor space, various elements impact housing costs in Thailand. Location is a key factor. Living in the capital, Bangkok, comes with higher housing costs — particularly for central accommodation or those with easy access to transport links. If you want this convenience, expect to compromise on space, amenities, or price.
Outside of Bangkok, you can find a small or mid-sized apartment near a beach for THB15,000, but Western-standard buildings with a great location can easily jump to the THB40,000–60,000 range. In cities like Chiang Mai, prices are about 20% lower, and even cheaper if you're willing to live a couple of hours away from the cities.
For a better idea of accommodation types and housing costs in Thailand, real estate aggregator sites like Hipflat, DDProperty, and Thailand-Property.com are useful resources.  They show locations, floorplans, building details, and the rental and purchase prices of many properties.
If you plan to fully retire in Thailand, consider buying a condo. Expect to pay THB3–10 million ($90,000–300,000) for the three levels of apartment described above. You can, of course, pay much more, with several global chains of branded residences (Four Seasons, Ritz-Carlton, Mandarin Oriental, Banyan Tree, Conrad, etc.) offering units in the millions of dollars. Note that although foreigners are not permitted to purchase land in Thailand, they can "own" houses or villas with a 30-year leasehold.
Utilities costs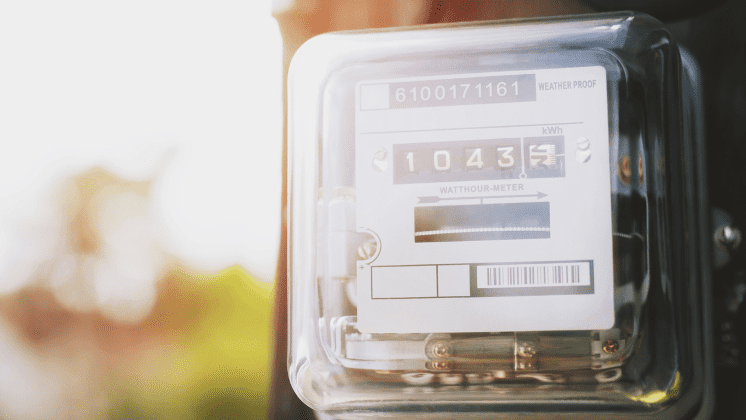 When people talk about the cost to retire in Thailand, they seldom factor in utility costs. Depending on the size of your property and your air conditioning usage, expect to pay between THB3,000 and THB5,000 per month for utilities. This cost is made up of various elements.
Wi-Fi usually costs between THB400 and THB800. High-speed internet is inexpensive and available throughout the country from multiple providers. In many condos, you will be expected to set up your own Wi-Fi, which comes with installation costs. Always check Wi-Fi speed and availability before signing a lease.
Electricity costs can be highly variable and likely to set you back between THB1,000 and THB5,000. Your A/C use will be the biggest factor. In some condos you will have to pay your bills directly yourself, while in others, it will be added to your monthly rental bill. Be wary that, although technically illegal, some older properties charge above the government rate for electricity. It is advisable to check this before signing your contract.
Water typically costs between THB300 and THB600 per month. Some condos have fixed monthly water rates, like THB500 no matter your usage, while houses and apartments are typically metered and the cost depends on your usage. It is not recommended to drink water from the tap, but some condos provide a communal filtered water dispenser for a small fee. Alternatively, there are popular bottled water delivery services available.
Mobile phone and data packages are high quality and good value in Thailand. It is possible to find contracts with unlimited data for between THB200 and THB600. Coverage is generally excellent.
Food costs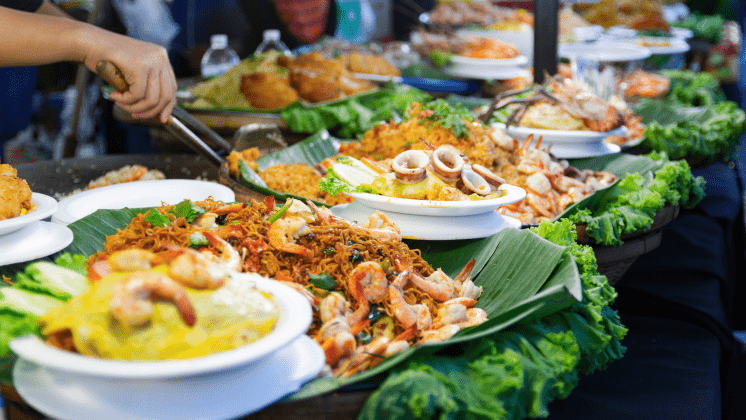 The cost of food in Thailand depends heavily on your willingness to adapt. While good-quality local food is far cheaper than "Thai food" in your home country, imported food is typically much more expensive than in its origin country. For this reason, food costs can range between THB6,000 and THB20,000+ per month.
Dining out in Thailand runs the gamut, especially in Bangkok. A street food meal from a vendor's cart or a food court costs as little as THB30–60. A meal in a mid-level restaurant typically ranges from THB80–300. Dining in a luxury restaurant will set you back upwards of THB500+. International hotel restaurants will cost international-standard prices. Bangkok is also home to Michelin-starred restaurants and omakase counters that charge as much as THB4,000–12,000 per head.
If you eat foreign food frequently and don't adjust to the local cuisine, you're likely to burn through your budget quickly. The good news is, Thai food is among the best — the freshest and healthiest — in the world! Once you have settled in, you can also find local alternatives, like good coffee for one-third of the price of Starbucks.
For grocery shopping, local wet markets sell fresh ingredients for the same price or lower than their Western counterparts. Western-style supermarket chains are geared more toward middle-upper class and expat shoppers. You will often find that it's cheaper to eat out or order delivery than do a Western-style grocery shop.
When choosing your accommodation, it is worth factoring in local food options. If you hope to save costs by eating local, move somewhere close to a food market, food court, or street food vendors. These are not always easy to find in the built-up city center. If, on the other hand, you can't live without international cuisine, it is best to live closer to the city center where you will have access to a range of restaurants and the full spectrum of food delivery services.
Prepared-food delivery apps like FoodPanda or GrabFood are very efficient and the delivery costs are very low — as little as THB10 per order. Grocery delivery from vendors like Lotus's (formerly Tesco Lotus) and Happy Fresh is also easy, efficient, and cheap. In larger cities, meal plan delivery services are also available.
Cost of alcohol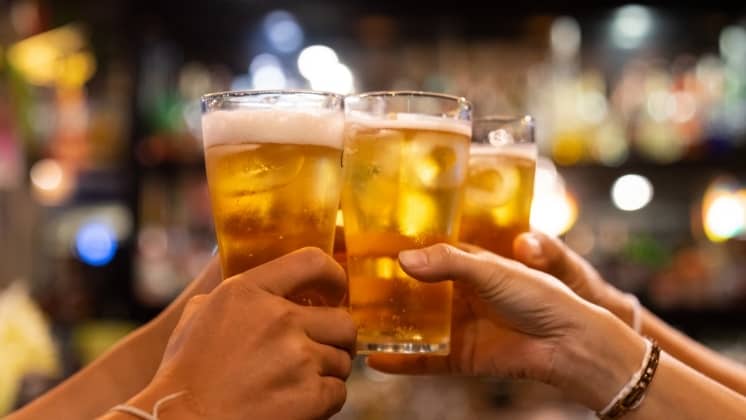 How much you budget for alcohol will obviously depend on how much you drink; be prepared to set aside anything from THB0 to THB20,000 per month. As with food, local alcohol is inexpensive, with beer costing between THB60 and THB80 per liter and local rum and whiskey costing between THB280 and THB450 per 700-mL bottle. Imported alcohol is significantly more expensive due to heavy import duties and tax, which add up to as much as 400%, often resulting in costs far higher than those in your home country.
Imported beer usually costs between THB80 and THB300 per liter, while imported wine starts around THB1000 per bottle and rises rapidly. Imported liquor often costs THB1,000+ per 700-mL bottle, and you can easily pay several times this for trendy whiskeys or cognac. This turns into a significant factor in the cost to retire in Thailand if fine alcohol is a big part of your lifestyle.
Transportation costs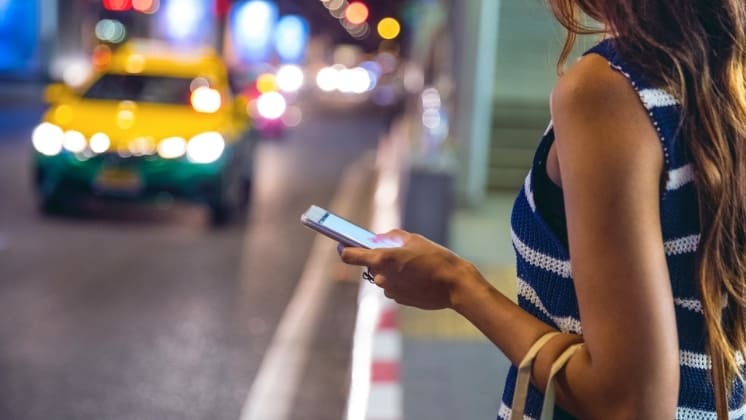 When calculating the cost to retire in Thailand, transportation may or may not be a significant factor. If you plan to rent a condo by the beach and spend your days strolling barefoot between the pool and the ocean, you won't need to budget much for transport at all.
If you live in the city, motorbike taxis (THB15–100), taxis (THB60–200 per journey), and public transport (THB15–160 per journey) are likely to be your main modes of getting around. For those brave enough to hit the road, car hire (THB700–3,000/day) is readily available for occasional trips, while long-distance taxis are incredibly affordable (from around THB1,500 for a 2.5-hour journey).
If you live far outside the cities, you will likely want to purchase a car. Like food and alcohol, imported cars — especially luxury cars — are subject to very high taxes in Thailand. On the other hand, Thailand has a large domestic automotive manufacturing sector (Toyota, Honda, etc.) and these made-in-Thailand cars can be both high quality and inexpensive. For a modest domestic vehicle, expect to pay between THB300 and THB500,000 for used and between THB1 million and THB3-million new. Compulsory car insurance costs around THB650 per year, while private insurance with extra coverage costs anywhere from THB1,500 to THB30,000 per year (THB10,000 to THB25,000 average). The money-conscious and brave can opt to buy a scooter or motorbike, which may cost between THB15 and THB20,000 used or THB40,000+ new.
For those who plan to travel while in Thailand, domestic and regional flights are very inexpensive. Domestic Thai destinations start as low as THB300 when booked in advance, or THB2,000–4,000 return on average. A final factor to consider is flights back to your home country to visit friends or family. The good news is that BKK is a global transportation hub, meaning a lot of options and a lot of price competition. Flights to North America and Europe tend to be plentiful and cheap.
Healthcare costs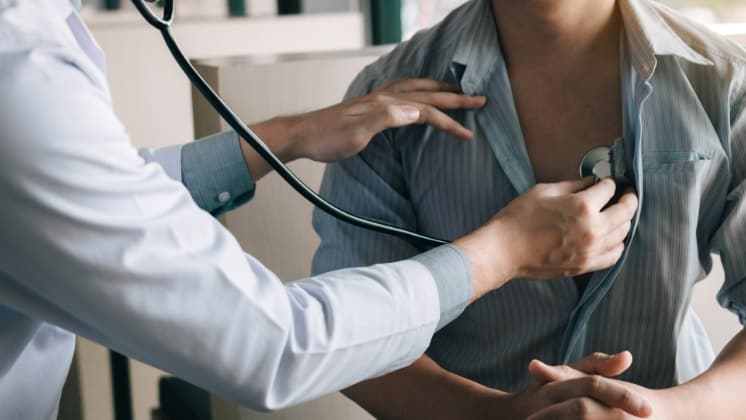 Thailand has a well-developed domestic clinic and hospital system with extremely low prices and near-Western world quality. However, it is also a global medical-tourism center, with world-class technologies, modern hospitals, and services at somewhat high, though still reasonable, rates. This is a major draw for many looking to retire in Thailand, as it offers peace of mind that ailing health will not necessitate a return home.
Health insurance is not only important, it's mandatory for foreigners retiring in Thailand, who must have at least $10,000 in coverage. Comprehensive insurance typically costs $3,000–4,000 per year.
Other healthcare costs in Thailand to consider include annual checkups, which cost around THB4,000+ at major private hospitals, and life insurance.
To get a more accurate estimate of your insurance costs, get an instant quote from our preferred insurance partner, Pacific Cross.
Note: This is an affiliate link so if you decide to purchase a plan from Pacific Cross, we will receive a small commission. The amount you pay will remain the same. We recommend Pacific Cross because we use them personally at Baan Thai.
Entertainment costs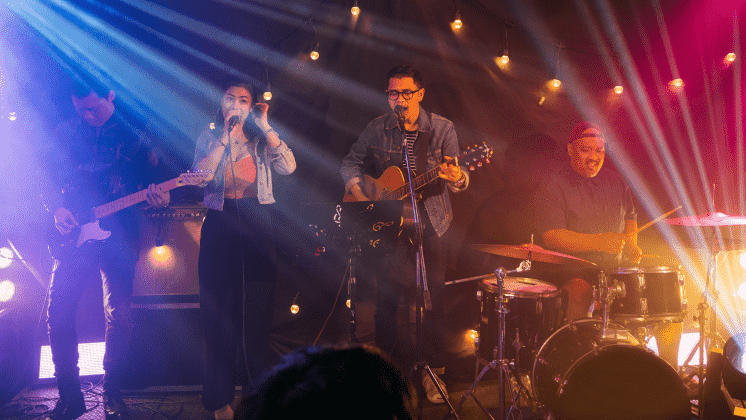 The cost of living in Thailand is largely dictated by lifestyle. Luxury entertainment facilities like malls, cinemas, and spas are readily available across the country and often cost far less than in the West. Massage costs as little as THB250–300 per hour or THB1,000+ in a luxury hotel. There are huge, luxurious, and super-modern movie theaters that play all the latest blockbusters, with tickets from THB70 to THB280.
Live music is extremely popular, and can be found in many free-entry bars nightly. Towns and cities frequently host free live music events like Bangkok's Symphony in the Park and Pattaya's International Music Festival. You'll also discover a full calendar of free religious, cultural, and entertainment events, from Songkran (the Thai New Year water festival) to Loy Krathong to the Vegetarian Festival to the Pattaya Fireworks Festival. Thailand's huge and diverse expat community hosts lots of "meetup.com"-type clubs and social events for any interest, basically for free.
In addition, the extremely well-developed tourism infrastructure in Thailand means endless opportunities for economical day trips, overnight trips, and tours.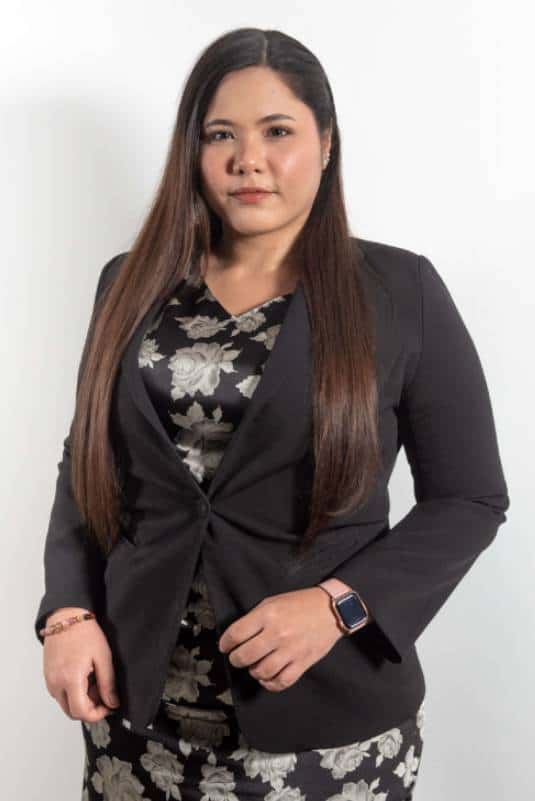 Chiara Budelli
Ready to retire in Thailand?
We can help you every step of the way, from applying for your retirement visa to setting up your Thai bank account to getting settled in your new Thai home.
Book your free consultation
Other considerations
Thailand has a well-developed international education market, with a very wide range of quality and cost. Like other international capitals, top-tier education for expat children can be very expensive in Thailand. If you're taking care of children and wish to send them to international school, you may need to significantly increase your monthly budget.
Developed regional cities like Chiang Mai or Surat Thani are about 20% less expensive than Bangkok, making them well worth considering for those seeking a lower cost to retire in Thailand. Thailand's extremely inexpensive domestic airlines and even cheaper long-distance trains keep Bangkok within easy reach. 
Conclusion
Thailand offers options for just about any budget. It's possible to get by on THB20,000 per month and it's possible to spend THB20,000 in a single day. 
To retire in Thailand comfortably with Western standards of living, we recommend budgeting THB50,000–100,000 per month.
That's not to say it's impossible to live comfortably on much less. To put things in perspective, the minimum wage in Thailand is around THB340 per day. Service employees (waiters, security guards, etc.) typically earn THB8,000–10,000 per month, while university graduates in professional services may earn THB30,000–60,000 per month, and management or executives at international firms may earn THB100,000++.
Thailand is an amazing country with a lot to offer. It's a wonderful place to live and spend your retirement if you're a bit adventurous, want your retirement savings to go further than in your home country, enjoy warm weather, and are willing to adapt to a new culture.
We hope this guide on the cost to retire in Thailand has been helpful in your decision-making process. For assistance with the next stages, head to our Thai retirement visa services page.
Summary of cost to retire in Thailand 
| Category | Price (THB) / month |
| --- | --- |
| Housing | 15,000–80,000 |
| Utilities | 3,000–5,000 |
| Food | 6,000–20,000+ |
| Alcohol | 0–20,000 |
| Transportation | Variable |
| Healthcare | 5,800–14,000+ |
| Entertainment | Variable |
| TOTAL | 29,800–139,000+ |
Correction (1 Nov, 2022): A previous version of this article stated the minimum wage in Thailand was around THB500 per day. The minimum wage varies by region, but it's typically closer to THB340 per day.