You're excited like never before. You've met the love of your life. You've proposed. And now you want nothing more than to be together in your home country. The US K-1 Fiancé(e) Visa is your ticket to your new life in America. 
With a K-1 visa stamped in their passport, your Thai fiancé(e) will be able to move to the United States and start the journey towards permanent residency. Your fiancé(e) can then get a green card and also freely travel between the US and Thailand without having to worry about expiring US visas or renewals. 
However, there is one major roadblock ahead: your fiancé(e) must undergo a face-to-face interview at the US embassy in Bangkok, Thailand, with an American government official. 
Having dealt with US immigration officers before, you know how intimidating they can be. Their badges, stern expressions, and probing questions are enough to make your pulse race. You're nervous for your fiancé(e), who has never experienced anything like this. Not to fear. This article will cover what you need to know about this critical step in the K-1 visa application process. But first, you may be wondering about the application timeline.
How long does it take to get a K-1 visa? 
From the day you submit your application to the day you receive your visa, the entire process can take nine months to a year. The US fiancé(e) visa interview happens at the very end of this timeline. Below are the four stages your application goes through:
Submit the application to US Citizenship and Immigration Services (USCIS) 
Your application is sent to the National Visa Center (NVC) for review
Interview in Bangkok, Thailand
Receive the CR1/IR1 visa 
Once your fiancé(e) receives the K-1 visa, which is typically two to seven days after passing the interview, they'll have 90 days to fly to the US and get married.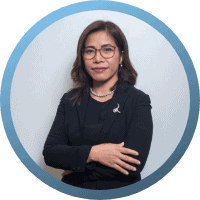 Laddawan Hanchanameechai "Noina"
Want help with your K-1 fiancée visa?
Noina is a partner at Baan Thai Solutions and has helped hundreds of couples, just like you, obtain K-1 visas for more than 17 years.
Schedule a free consultation
What to expect in the US fiancé(e) visa interview
Preparation is the key to passing the interview. If your Thai fiancé(e) knows what to expect and how to prepare, they can walk into the interview with confidence.
The purpose of the interview
An interview may seem like an unnecessary step to get a visa, but it serves a distinct purpose. Marriage visa fraud is common in America and US immigration wants to look your fiancée in the eye and verify that their intention for moving is love, not to get a green card.
The day of the interview
The US fiancé(e) visa interview is a formal government activity, so dress accordingly. Your fiancé(e) can wear any outfit they would wear to a job interview, temple, or formal business event. The outfit should communicate respect and that your fiancé(e) wishes to make a good impression. Bring supporting documentation and arrive at the US embassy 30 minutes before the interview.
The questions
The questions are focused around two common themes: the background of you and your fiancé(e) and your relationship. Your fiancé(e) should answer the questions truthfully and respectfully. However, there's no need to provide excessive details that could lead the interviewer to ask for unnecessary clarification. The goal is to present your relationship in the best possible light, and that means being concise while focusing on the positive.
Which questions will be asked during the interview?
If you're stressed about your fiancé(e) stumbling over answers or being surprised by an unexpected question, don't worry. Our K-1 visa interview guide covers the spectrum of questions frequently asked in the interview.
Knowing the common questions beforehand will help your fiancé(e) give well-thought-out answers and exude an air of confidence in the interview.