The US K-1 Fiancé(e) Visa for Thai Citizens
Everything you need to know about taking your Thai partner home to the US to get married
Speak to a
immigration expert
What is the US K-1 Fiancé(e) Visa?
This visa is for couples who plan to marry and live in the US, where one is a US citizen and the other is a Thai citizen. It allows the US citizen to sponsor their Thai partner's entry to the US with the intention of marrying within 90 days. Once married, the Thai spouse can then pursue adjustment of status to lawful permanent resident.
When getting married and planning a future together, where to live is a big part of the puzzle. If you're American and want to marry and live in the US with your Thai spouse, you will need to apply for this K-1 visa together.

If you are already married to a Thai citizen and plan to return to the US with them, you will need a different visa: the IR1, CR1, or K-3 Spouse Visa.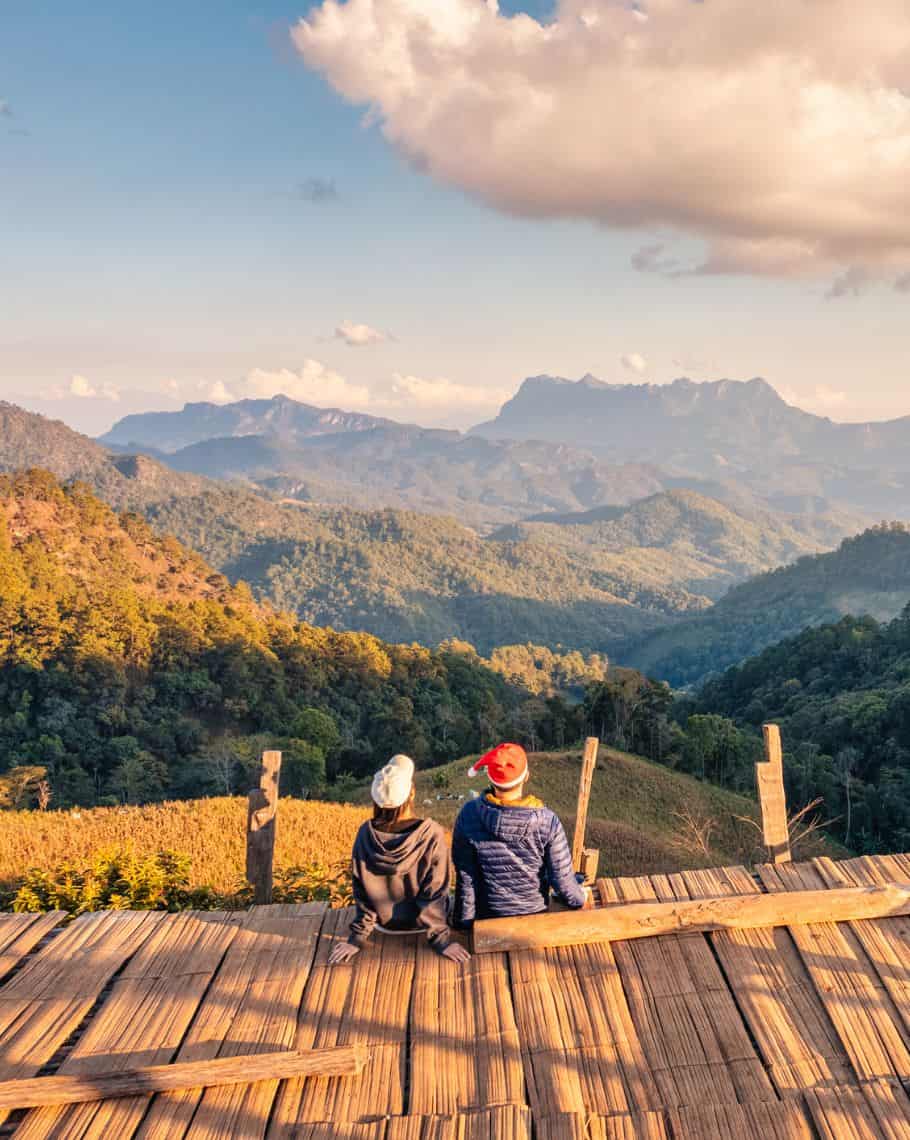 What's covered on this page
Navigating the K-1 visa application can be time-consuming and frustrating — especially when you'd rather be focusing on your loved one and your wedding. To help make the process easier, this article will cover:
Requirements for the US K-1 Fiancé(e) Visa
The K-1 visa application involves both of you:
Requirements for the US citizen petitioner
To sponsor your Thai fiancé(e), you must be able to prove your US citizenship with a passport, birth certificate, citizenship or naturalization certificate, a Form FS-240 (Consular Report of Birth Abroad), or a US consular statement verifying you are a US citizen.
Requirements for the Thai applicant
Your Thai fiancé(e) must show records of any past or current medical conditions and pass a medical exam by a US Embassy-accredited doctor. They will also need to produce immunization records or get the required shots prior to their visa interview.
Requirements for both of you
You will need to provide evidence your relationship is legitimate. This can be sworn statements from friends or colleagues, call records showing evidence of phone conversations, written correspondence, and photos taken together. You must also prove you have met face to face within the two years prior to applying for the K-1 visa.
Proof of financial independence
You must prove that the Thai applicant will not become a public financial burden in the US. This can be done by one or both of you establishing proof of financial independence. The Thai applicant can present evidence that they are able to financially support themselves, or that their US-citizen fiancé(e) is able to provide support. The US citizen can submit an Affidavit of Support (I-134) that shows they meet certain financial requirements, including a minimum household income or equivalent assets.
You and your Thai fiancé(e) must pass criminal record checks in Thailand and the US for the K-1 Visa. If the Thai applicant has a criminal record, they may be denied, especially for violent or drug-related crimes. However, for lesser crimes, rejection is unlikely, and in some cases, it is possible to apply for a waiver. For a US citizen with a criminal record, rejection is possible for behavior that could put the K-1 applicant at risk, such as assault or substance abuse.
Both of you must be single and legally eligible to marry in the US. Your Thai fiancé(e) must obtain a Marital Status Certificate from the Thai government at the local district office. If either of you were divorced or widowed, you must submit a Termination of Marriage or Death Certificate.
Intention to marry while in the US
This visa is only for people who have the intention to marry within 90 days of arriving in the United States (the K-1 visa is only valid for 90 days.) This visa cannot be used for other immigration goals, such as work or education.
The US K-1 Fiancé(e) Visa application process
Once you have established that you and your Thai partner fulfill the above requirements and have gathered the necessary documentation, you can begin the K-1 application process.
1

The US citizen submits the K-1 Visa Petition (I-129F) to the USCIS Center (US Citizenship and Immigration Service Center) in their area.
You will then receive an initial Notice of Action (NOA) letter containing your case number to track the application. It typically takes four to five months for the USCIS to process the petition. If the petition is approved, you will receive the second NOA and they will forward your case to the National Visa Center (NVC). The USCIS may reject a petition if there is incorrect information or insufficient documentation. We recommend you consult with an immigration expert prior to submitting.
2

The USCIS and the National Visa Center send your application to the US Embassy in Thailand.
Once the NVC receives your approved I-129F petition from the USCIS, they will send your case on to the US Embassy's Immigrant Visa (IV) unit in Bangkok. They will also issue the Thai applicant's case number for correspondence with the US Embassy. It takes the NVC approximately three to four weeks to process the petition. Once the embassy's IV unit has received your file, they will email you with instructions (known as Packet 3) on how to prepare the required documents for the interview.
3

Prepare documents and schedule the Thai applicant's interview at the US Embassy
Form DS-160 (the online nonimmigrant visa application that includes the K-1) must now be completed and the visa fee paid. The Thai applicant will then receive documents (known as Packet 4) including a letter authorizing them to schedule their interview. This can be a complicated process; an immigration professional can assist in preparing the documents for the interview, obtaining the criminal record check, booking the medical exam, and providing interview practice.
4

Get the medical exam and any required vaccinations
The Thai applicant should schedule their medical exam with an approved physician at least 10 days before their interview to ensure the results are back in time. The medical certificate will only be valid for six months (three months for some medical conditions). If a K-1 visa is issued, it will expire six months from the date of issuance or on the expiration date of the medical certificate (whichever is sooner).
5

Interview at the US Embassy in Thailand
The Thai applicant will be at the embassy for approximately 1.5 hours. They must bring their Packet 4 documents to the interview. They can expect to be asked questions about the documentation and your relationship, including how you met and how long you have been engaged. Once the interview is complete, the Consular Officer will likely indicate that the application is approved or request additional information or documentation.
6

Supply any additionally required documentation
If the Consular Officer requests additional information or documents during the interview, you will need to submit them at that time or by post to the Immigrant Visa unit at the US Embassy.
If the application is approved immediately following the interview stage, the Consular Officer will keep the Thai applicant's passport and the visa will be issued within two weeks. If additional documentation is required, the applicant can mail in their passport once the application has been approved. In both cases, the Embassy will return the passport by mail.
Challenges to Obtaining US K-1 Fiancé(e) Visa
Several factors can decrease the Thai applicant's chances of being issued a K-1 Visa. Based on our past experience, here are some of these factors: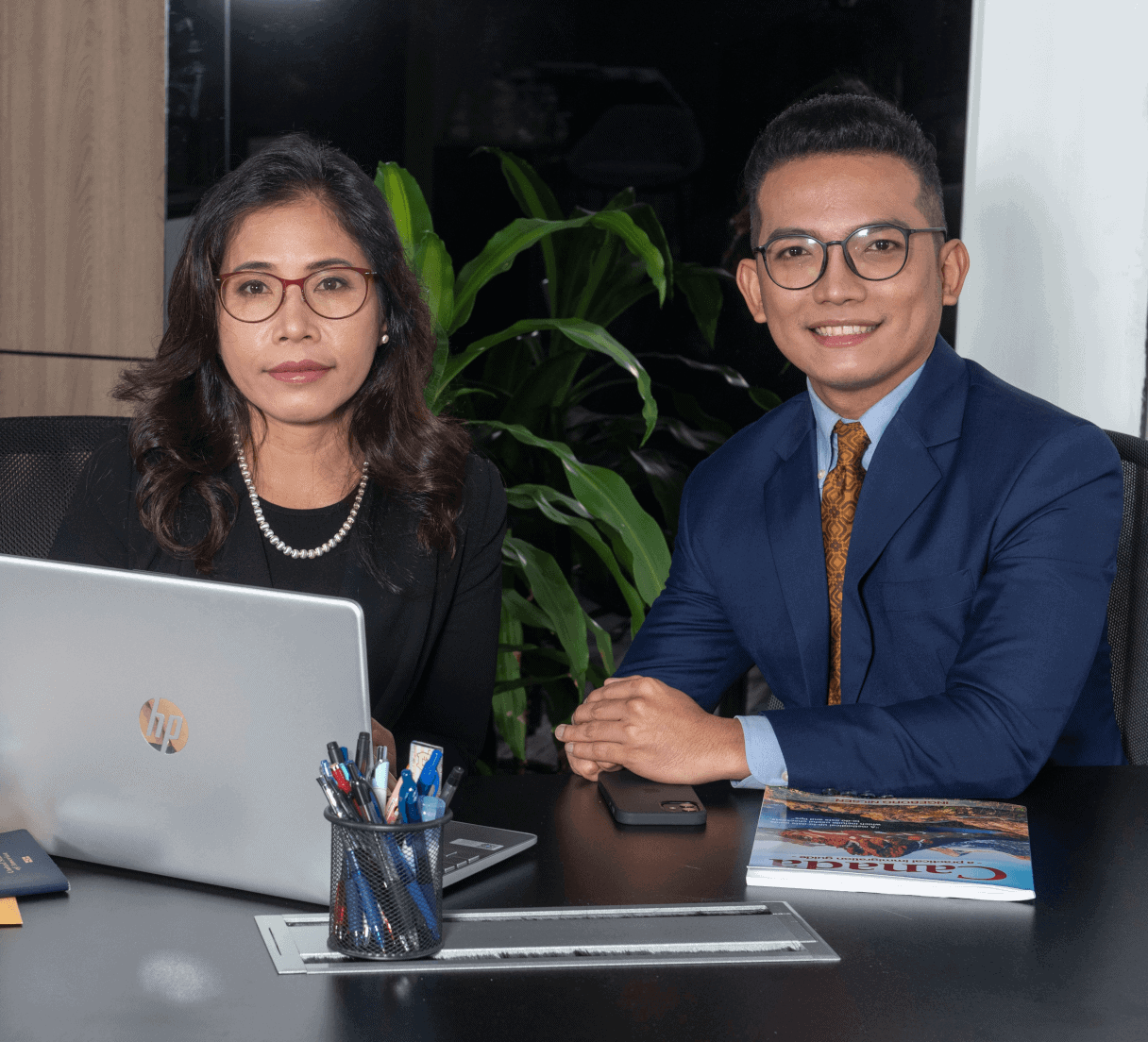 BAAN THAI IMMIGRATION SOLUTIONS
US K-1 Fiancé(e) Visa Specialists
We are an immigration-focused international law firm based in Bangkok. Our team of bilingual counselors are experts at simplifying and facilitating visas for international couples living in Thailand or abroad.

While it is possible to tackle the K-1 Visa application on your own, it is faster and a lot less stressful if you have an expert by your side. With our K-1 Visa assistance service, you can be confident that all the legal requirements in both the US and Thailand are satisfied. Our Thai- and English-speaking team members will be with you and your partner every step of the way.

We take the time to get to know you both, ensuring you are on the best path for your unique needs. With decades of legal experience helping clients unite with their partners, and strong relationships with Thai Immigration Bureau authorities, we can make the Fiancé(e) Visa process seamless for you and your loved one.
Free K-1 Visa Consultation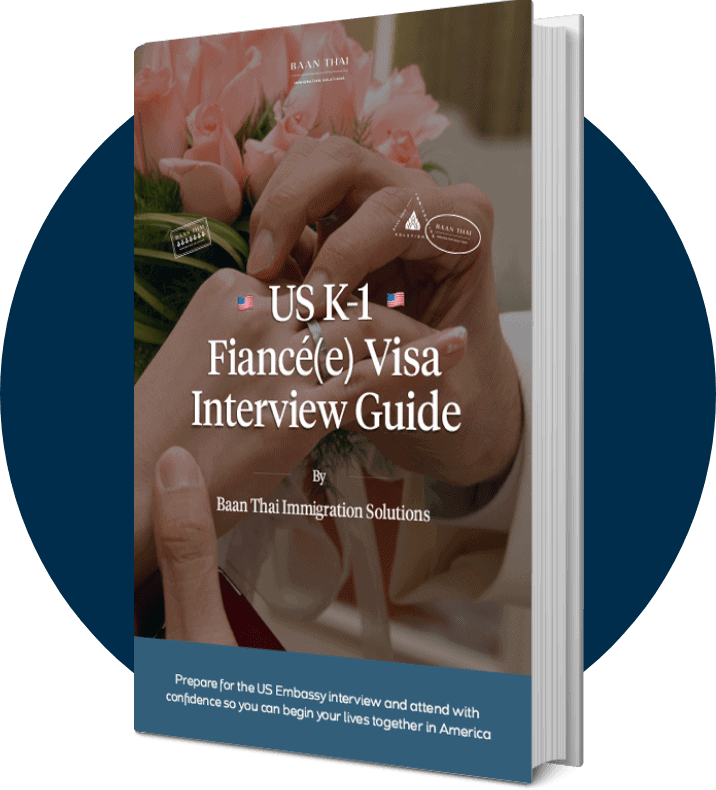 US K-1 Fiance(e) Visa
Interview Guide
"She was able to get her visitor visa for 10 years"
Hello, my name is Doug and I live in the United States. I have a friend that lives in Thailand. And we tried to
"The communication is great"
Hi, my name is Joseph Chi, and I'm an American who have lived extensively in Myanmar and now in Thailand for the last five
"We are very, very happy to have been introduced to the team"
Sawaddee ka. Sawaddee krub. My name is Ben. This is my wife Siriporn. What challenges were you facing before working with Baan Thai? We
"Khun Ing accompanied me through every step of the Permanent Residency process."
Hi, my name is Ahmet. I am a legal executive working for a multinational corporation with headquarters in Los Angeles, in charge of our
"Within just a couple of months, Kratai was here in America."
Ten years ago we had no idea how to start to get my wife Kratai from Thailand to here. All the websites had all
My name is Lisa Rivers and I'm actually doing this video because I believe that it will help other folks who might have problems
What is the cost of the K-1 Visa?
There are various costs to factor in:
| | |
| --- | --- |
| K-category Visa fee | $265 (THB8,900) |
| Alien Fiancé(e) Petition (Form I-129F) | $535 (THB17,900) |
| Medical exam (dependent on age, plus any costs for required vaccinations) | $100–300 (THB4,000–9,800) |
| Legalization of Thai Document at the Thai Ministry of Foreign Affairs (as needed) | $12 per document (THB400) |
How long will it take to obtain a US K-1 Visa?
The whole process takes approximately 8–12 months.
How should I prepare for the application?
You should begin collecting documents and evidence of your relationship as early as possible — evidence of a long-term relationship and consistent contact is essential. If you are feeling overwhelmed by the paperwork or unprepared for the interview, speak to an immigration professional. They can help with document gathering, clearances, appointment bookings, and interview guidance.
What questions will they ask my Thai fiancé(e) during the interview?
Your Thai fiancé(e) should be prepared to answer detailed personal questions about your relationship, from how you met to your first date/s to how you got engaged, and where you plan to live once you are married. They should also be able to answer questions about the application paperwork and Packet 4 documentation.
Should we make travel plans before my Thai fiancé(e) obtains the K-1 Visa?
No. You should not make any travel plans, quit your job, buy or sell our property, or make any other major decisions until your Thai fiancé(e) has physically received the US visa in their passport.
Can the US citizen petitioner attend the interview?
No, US petitioners are not permitted to attend the interview. If the Thai applicant is under 18, they may be accompanied by a parent or legal guardian. However, applicants need to be familiar with all the documents they present at the interview, and capable of independently providing the Consular Officer with all requested information.
What's the difference between the US K-1 Visa and K-3 Visa?
The K-1 Visa, or fiancé(e) visa, applies to couples who are engaged and plan to marry in the US. The K-3 Visa, or spouse visa, is for couples who already got married in Thailand and wish to move to the US together. Married couples may also apply for the CR-1 or IR-1 visa
If I get married in the US, can I come back to Thailand with a Non-O Visa?
Yes. You can apply for a 90-day or one-year Non-immigrant O Visa outside of Thailand with the required documentation. Once in Thailand on a Non-O, you can report to immigration to obtain a marriage visa extension.
How soon after arriving in the US will my Thai fiancé(e) be able to work?
Once the K-1 visa has been issued, your Thai partner can apply for a US work permit. This can take up to five months, by which point their K-1 Visa will have expired and you will need to be married to remain in the US together.
What kind of evidence will be required to prove that I have a legitimate relationship with my Thai fiancé(e)?
Evidence may consist of records of phone conversations, written or email correspondence, photos together, and sworn statements from friends or colleagues.
My Thai fiancé(e) has children — are they eligible for a US visa?
Yes, children can be added to the application as K-2 dependents as long as they were included on the original petition. They can accompany your fiancé(e) to the US or join within one year from the date of issuance of the K-1 visa.
We are ready to answer your questions about the K-1 Visa.
Our dedicated and experienced team is ready to help you as we have so many others. Contact us today for your free consultation.