Dealing with visa extensions and 90-day reporting is a weight on the minds of many long-term foreign residents in Thailand. For those intent on making the Kingdom their permanent home, Permanent Residency (PR) is an attractive option. Part of that commitment is demonstrating your ability to communicate in Thai, and this article describes how to accomplish this.
PR enables foreign residents to live in Thailand for an unlimited period without worrying about their visa status. It is open to those who can demonstrate three or more years of contributing to the Thai economy through employment, company ownership or investment, and those with family ties to Thailand or specific qualifications.
Benefits include:
No need for visa extensions
No more 90-day reporting
Ability to purchase a condo in Thailand without having to transfer funds from abroad
Ability to apply for a Thai work permit with ease
Permitted to become a director of a Thai public company
Get an extension of stay for non-Thai family members and Thai citizenship for children
Get a tabien baan (blue Thai house book)
An important step on the path toward Thai citizenship
Preparing for the Thai-language Permanent Residency interview can seem particularly daunting. This article explains the purpose of the interview and how to prepare for it, including what questions to expect.
Purpose of the Permanent Residency interview
After submitting a Permanent Residency application, approved applicants must attend a formal interview at immigration. This consists of a short, semi-formal conversation in Thai with a panel of seven-to-ten officials from various ministries.
The purpose of the PR interview is to gauge the applicant's attitude and commitment to Thailand and its culture. Officials are looking for:
Language skills: Applicants must be able to understand and answer conversational questions comfortably in Thai. 
Thai etiquette: Applicants should dress respectfully in formal attire, greet the interviewers with the wai, and speak and act politely throughout the interview.
Commitment to Thailand: The officials want to see that applicants have genuine roots in Thailand and are willing and able to contribute to the country.
In short, the interview is as much a test of the applicants' Thai language skills and etiquette as it is a chance to discuss their background, reasons for wanting to reside in Thailand, and contributions to the country. 
Interview Process and Fees
1.Apply
Applicants must first submit their application for Permanent Residency to the Royal Thai Immigration Office. This includes providing all the relevant paperwork and paying the initial application fee (7,600 THB). A few months after their successful application being lodged, the applicant will receive notice to attend a formal interview at immigration.
2.Interview
On the day of the interview, the applicant will meet with a panel of seven-to-ten officials from various related ministries who will make recommendations to the Minister of Interior, who ultimately signs off on each application.
3.Wait
Once the interview is complete, the application will be sent to the Ministry of Interior for final approval. There is no official timeline for this part of the process, but it typically takes between 18 and 20 months following the initial application. 
4.Obtain Certificate of Residence
Once the Minister of Interior approves the PR application, the applicant will be invited back to immigration to receive their approval letter and pay the final fee (approximately THB200,000). They will then receive instructions on how to obtain a blue Certificate of Residence book (tabien baan) and an Alien Residence book.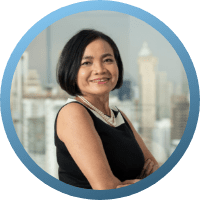 Kasinee "Ing" Senior Partner
Want to learn more about Thai Permanent Residence?
Ing is a partner at Baan Thai Immigration Solutions. She has 25+ years experience as an immigration specialist. Ing helps clients obtain Permanent Residency and Thai citizenship.
Schedule a free consultation
Preparing for the Interview
It is essential for applicants to prepare thoroughly in order to pass the interview stage of the PR application by:
Planning for questions they may be asked
While there is no official set of interview questions, applicants can expect to be asked about themselves, their job, their family, how long they have been in Thailand and what they like about the country. We've prepared a comprehensive guide that includes practice interview questions, including translations.
Download our FREE interview guide 📖 
Practicing with friends and family members
By practicing anticipated interview questions with native speakers, applicants will be able to pick up on nuances and deliver coherent and polite answers.
Doing mock interviews with multiple people
Setting up a mock interview with multiple "interviewers" is a good way to prepare for the experience of being interviewed by the board.
Working with a Thai teacher 
Investing in one-on-one lessons with a professional Thai teacher helps applicants tighten their answers, improve their vocabulary and polish their etiquette. We highly recommend Kru Arisa. Her contact details can be found in the aforementioned interview guide.
Striking the right balance of casual vs formal
Although the PR interview is not overly formal, it is important to be polite throughout. Applicants should avoid being boastful, steer clear of slang or offensive language, and keep any negative observations of Thailand to themselves. At the same time, they should take the opportunity to demonstrate their conversational Thai language skills.
By knowing what to expect of the PR interview process and preparing thoroughly, applicants can pass this important part of the Permanent Residency application and make their dreams of living in Thailand visa-free a reality.